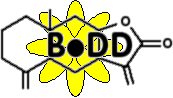 the Botanical Dermatology Database
---
The Botanical Dermatology Database is primarily a resource for dermatologists. However, because of its position at the interface between botany, phytochemistry and medicine it is visited by scientists from a wide range of disciplines. Thus, botanists, taxonomists, phytochemists, medicinal chemists, immunologists, photobiologists, toxicologists, general medical practitioners, pharmacists, nurses, herbal / traditional medical practitioners, aromatherapists, horticulturalists, nurserymen, and indeed anyone who comes into contact with or is studying flowering plants, vegetables, shrubs, trees, fungi, lichens, algae or ferns will find something of interest in BoDD.
BoDD was hosted on servers in Cardiff University, UK from its launch in August 1994 until early 2011 when it was moved to its own domain (botanical-dermatology-database.info). The first server (medusa.cf.ac.uk) was a Macintosh LC located in an office in the Welsh School of Pharmacy in Cardiff. In January 1997, the BoDD database was moved to a sub-domain (bodd.cf.ac.uk) of the Cardiff University server, where it remained for almost 15 years.
After the launch of BoDD, awareness of its existence increased steadily. Thousands of weblinks to the bodd.cf.ac.uk domain were established. Many out-of-date links to the bodd.cf.ac.uk domain to this day remain to be updated.
The major search engines can also generate a current listing of websites providing a link to the new BoDD website:
Below is a list of some of the sites known to provide a link to BoDD. If you would like to notify a correction or would like to have a request for an addition considered, please e-mail the details to .
DERMATOLOGY
AROMATHERAPY :: COMPLEMENTARY MEDICINE :: HERBAL MEDICINE :: MEDICAL BOTANY :: ETHNOBOTANY :: MEDICINAL PLANTS :: PATHOLOGY :: PHARMACOLOGY :: PHARMACY :: TOXICOLOGY
AGRICULTURE :: ARBORICULTURE :: BOTANY :: ECONOMIC BOTANY :: HORTICULTURE :: MYCOLOGY :: PHYTOCHEMISTRY
MISCELLANEOUS
---
Custom search
---